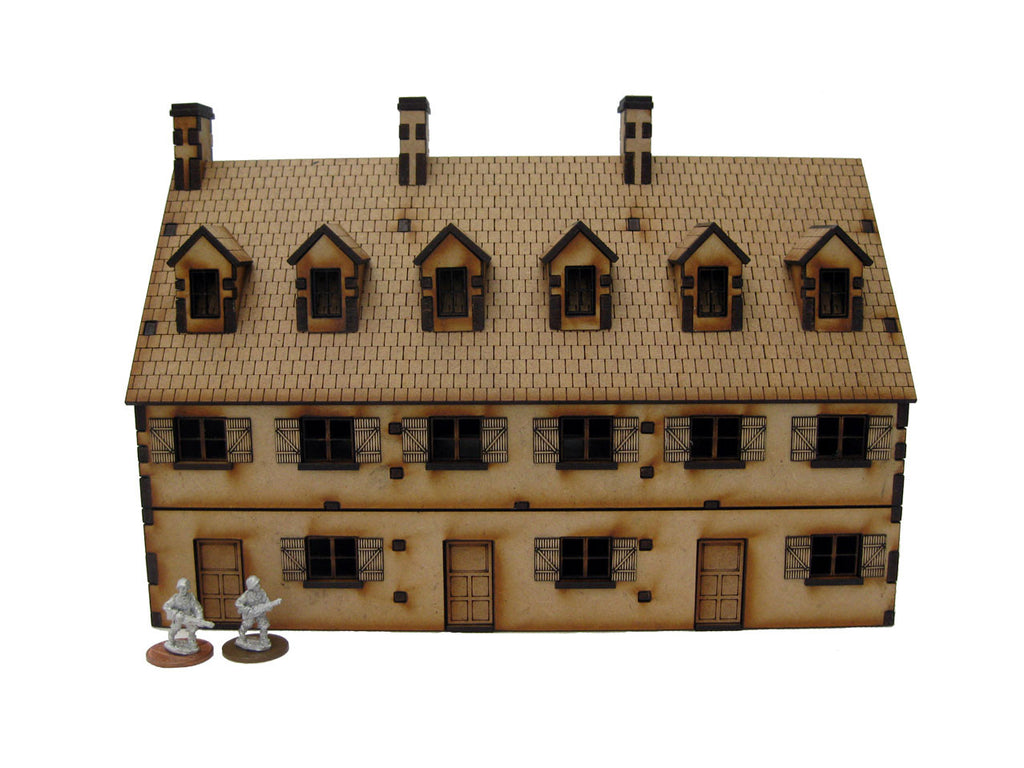 20mm 1:72 "The Terrace"
20mm 1/72 "The Terrace" comes flat packed, is unpainted and requires assembly using PVA. The roof can be removed easily for internal access and the first floor can also be removed to place models inside.
The walls are made from 3mm MDF with floors, roof & details being made in 2mm. Shutters are 1mm greyboard.
Windows, doors and shutters are supplied separately so you can paint them before gluing in place.
The kit comes with 6 dormers. Dormers can be placed all on one side of the roof or 3 on each side. The roof has engraved tiles all over so placement of the dormers is down to personal preference.
Included in the kit is a length of angle plastic to cut and stick to the apex as capping tiles (this covers the seam along the top ridge). Plastic pipe is also included for the chimney pots.
Approximate dimensions: Height to top of chimney pots 174mm
Width left to right 240mm
Depth back to front 118mm
A number of pictures show The Terrace" (20mm version) with the "Front & Back Yards Set" also available on this site.
PLEASE NOTE: If you plan on adding the Front & Back Yards, ensure the base of the kit has the "Charlie Foxtrot Models" stamp on the outside. This will keep the doors & garden paths in line.