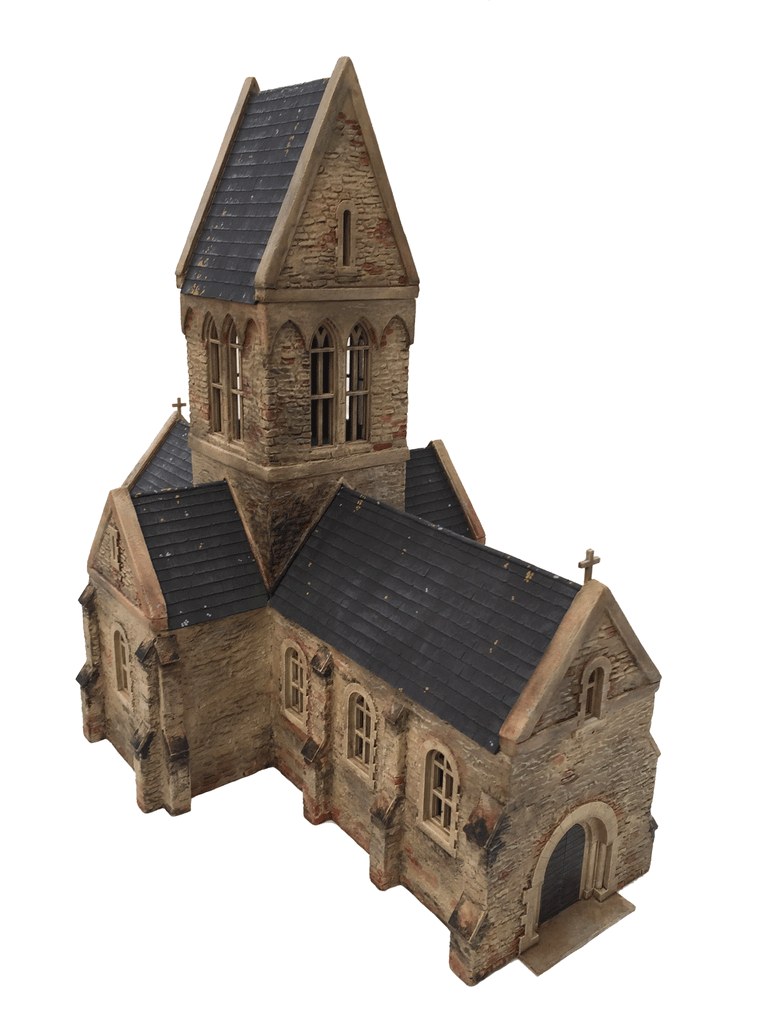 28mm 1:56 "Eglise" (French Church) PLAIN WALL VERSION
Click here for instructions
Please note: This kit is heavy weighing in, when boxed, just under 2kgs. As the this shop has a weight cap of 2kgs, you will not be able to check out with the Eglise AND another item.
PLEASE E MAIL ME FOR A SHIPPING QUOTE. See the "shipping" page for further details. 
"Eglise" is based on a number of churches from France, comes flat packed, is unpainted and requires assembly using PVA.
The kit has walls of 3mm MDF many of which are lined with 2mm MDF. The floors, roofs and architectural details are 2mm MDF.
The 5 roof sections can be removed easily for internal access and the first floor tower can also be removed to place models on the ground floor easily.
The doors are supplied separately so you can paint them before gluing in place.
The transepts can be placed as shown or rotated 180 degrees to have the priest door facing the front.
Plastic 1/2 round strip is included in the kit to make the 4 x 29mm  half  columns for the front door and to cover the roof ridges as capping tiles. 
5 x sheets of card tile 2  (also available separately) are included with this kit.
Approximate dimensions: Height to top of tower 415 mm
Width left to right 275 mm
Length back to front 455 mm
PLEASE NOTE: The painted images show the Eglise once it has been clad in plaster and textured. In addition, pieces of cardboard were used to thicken the sloping raised gables, make the inverted V on the tower to accept the roof and the raised horizontal pieces separating the roof from the walls. 
I need to thank Geoff Lacey of Purple Lion Creations for the texture and card additions. I gave Geoff the assembled kit and free reign.
More of Geoff's outstanding work can be found here: https://www.purplelioncreations.co.uk/
British paratroopers and jeep, made by 1st Corps, the Hanomag from  Warlord Games are for scale purposes only.
Please also see the "Eglise (French Church) Stone Wall version also on this site.