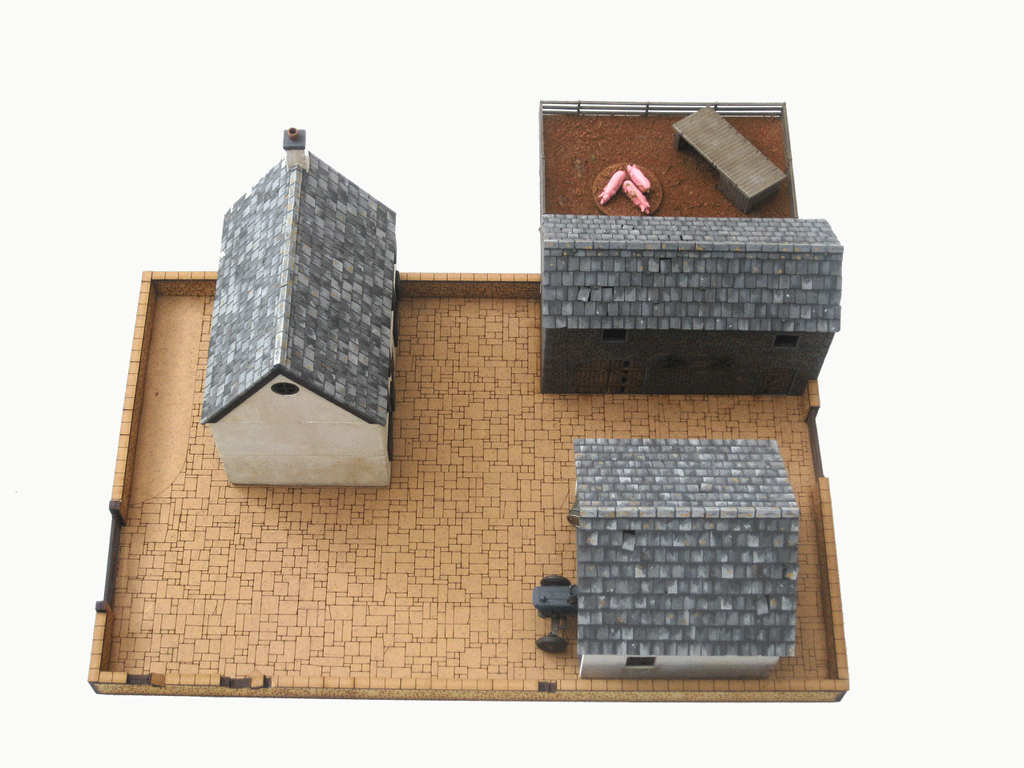 28mm 1:56 "Farm Tile"
The "Farm Tile" comes flat packed, is unpainted and requires assembly using PVA.
The farmyard has a flagstoned floor made from 2mm MDF. The walls are field stone effect engraved 3mm MDF which is glued back to back. To complete the walls, glue on the capping stones.
Two gates are also supplied.
The "Farm Tile" has been designed to accept the "Stone Barn" having a cut out with a matching footprint. This cut out also can accommodate the "Stables".
The engraved rectangle has been designed place on any building 150mm x 103mm and is suitable for the following Charlie Foxtrot Models:
Farmhouse, Farmhouse 2, Intact House, Porch House, Ruined House 1, Ruined House 2, Ruined House 3.
The corner opposite the "Stone Barn" cut out, is complete without an engraved rectangle. It is designed to accept the following Cgarlie Foxtrot Models:
Workshop, Workshop 2. It could alternatively provide space for the New Shed, Old Shed, Stone Shed, Tool Shed, Log Store  and / or Outside W/C
Opposite the main front door of any building you place on the tile is a plain area, this was intended to use as a front garden and to add some colour to the model, please see the painted version for the effect you could achieve.
Approximate dimensions: Height to top of capping stones on walls  24mm
Width left to right 290mm
Depth back to front 450mm.
Painted models are for illustrative purposes only.