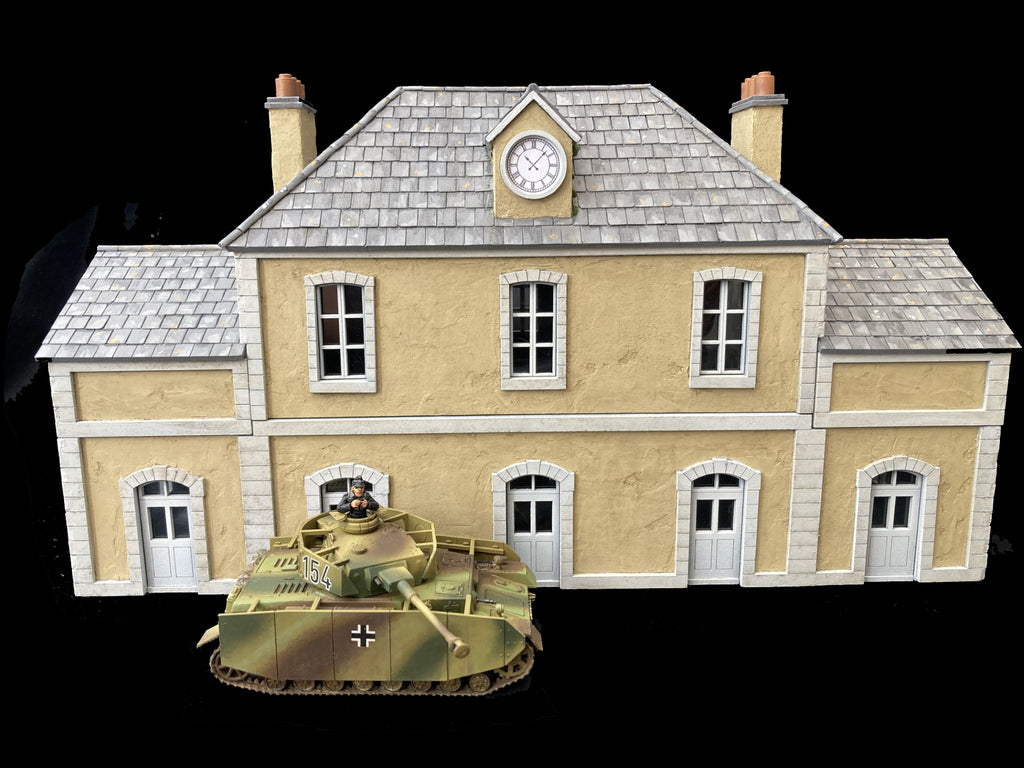 28mm 1:56 "French Station"
 Click here for instructions.

Click here for clock face 
The "French Station" comes flat packed, is unpainted and requires assembly using PVA and general purpose adhesive.

The 3 roofs can be removed easily for internal access and the first floor can also be removed to place models inside.There is no access to the roof space.

The walls are made from 3mm MDF with 2mm floors, roofs and decorative trim / details. 
Included in the kit is:
A length of half round plastic strip to cut and stick to the apex as capping roof tiles (this covers the seam along the top ridge).

A 2mm piece of laser cut acrylic for the rear canopy. 
3 sheets of cardboard "Roof tiles no2".
An MDF clock face is included in the kit together with an optional bezel (as seen in the pictures). By clicking one of the links at the top of the page you may access a PDF of 6 different clock faces for you to print off at home. 
Painted models and "blister packaging" window panes are not included in this kit. Warlord Games Panzer IV is for scale purposes only.

Approximate dimensions: Height to top of roof ridge 195mm
Width left to right 356mm
Depth back to front 157mm  .
Please note: this model has an overhanging glazed canopy and all dimensions are at the widest point.
Please also see "Signal Box" on this website.