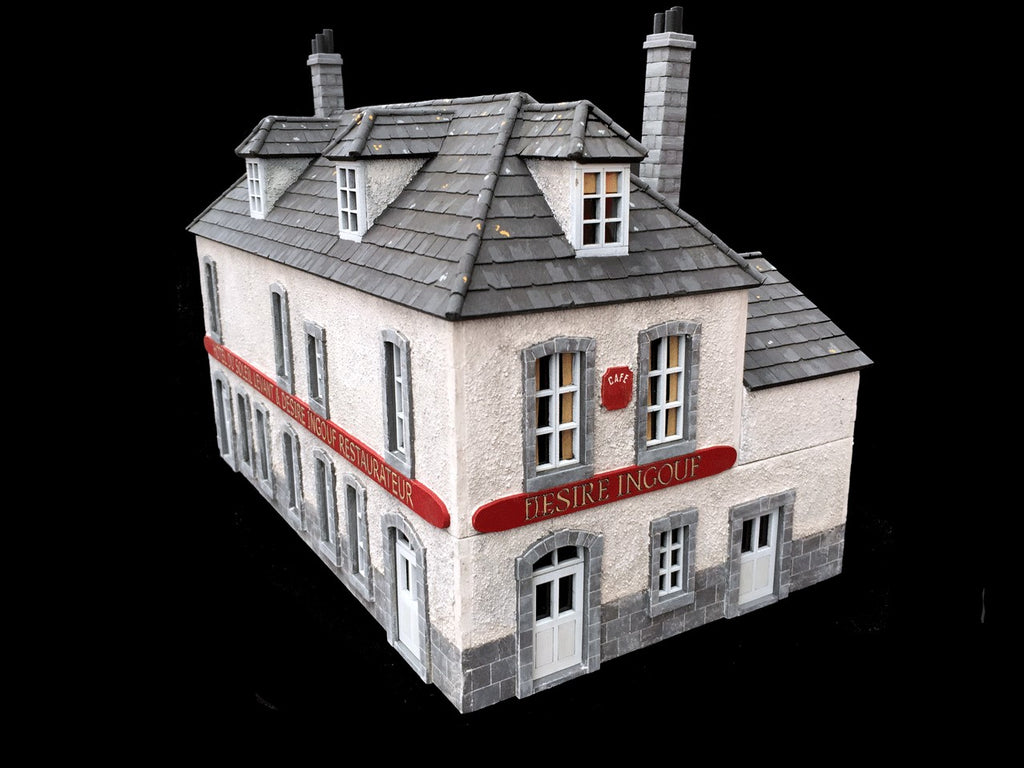 28mm 1:56 "Hotel" (Desire Ingouf)
Click here for Instructions:
The "Hotel" comes flat packed, is unpainted and requires assembly using PVA.
Both of the roofs can be removed easily for internal access and the first floor can also be removed to place models inside.
Windows and doors are supplied separately so you can paint them before gluing in place.
Also included in the kit is a length of 1/2 round plastic to cut and stick to the apex as capping roof tiles (this covers the seam along the top ridge). Plastic pipe is also included for the chimmney pots.
Approximate dimensions: Height to top of chimney 217mm
Width left to right 292mm
Depth back to front 174mm  at widest point
Depth back to front 112mm for main building
Please note: this kit was enhanced with just under 2 sheets of cardboard roof ties (style no.2 also available on this website)
Many thanks to Michal Pokorny from the Czech Republic for his original concept artwork and suggested dimensions that made this kit possible. Michal made and painted and enhanced the sand coloured model. The model in the last picture on the right is the rear of the "Chapellerie". 
Germans by Westwind and Panzer IV Warlord Games are for scale purposes only.