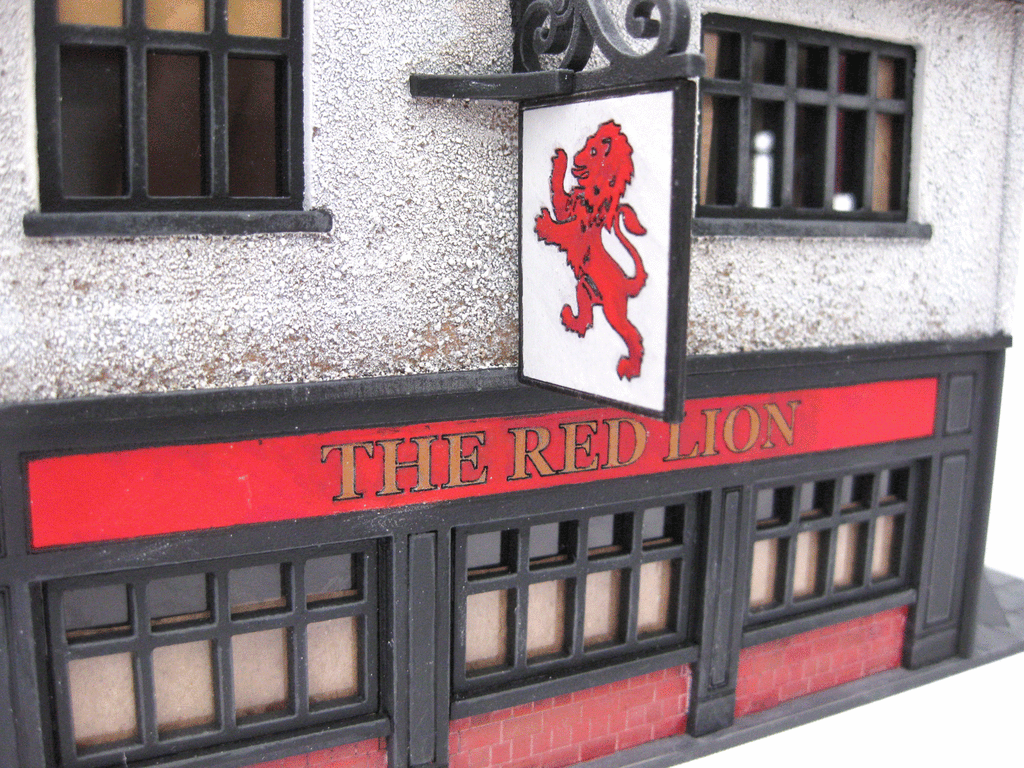 28mm 1:56 "The Red Lion Pub"
 Click here for instructions
"The Red Lion Pub" comes flat packed, is unpainted and requires assembly using PVA.
The Pub roof can be removed easily for internal access and the first floor can also be removed to place models inside.There is no access to the roof space.
Downstairs, there is an option for large windows or small panes so you can vary the look and period of the building. The doors are supplied separately so you can paint them before gluing in place.
Included in the kit is a length of half round plastic strip to cut and stick to the apex as capping roof tiles (this covers the seam along the top ridge). This plastic is also used to cover the inevitable gap either side of the shop main door and middle top floor window. Plastic pipe is also included for the chimmney pots. The model comes pre-engraved with the title "The Red Lion".
Above the main Lounge door, there is an engraved lion, this is supplied on a separate piece of 2mm MDF. This may be reversed and have either an alternative icon painted on or a picture glued on top to customise your kit. A second lion is included and can be used on the longest upstairs wall. An alternative to the second lion is also provided in the form of a hanging pub sign.
Further "blanks" are included to replace the panels with "Lounge & Bar" on them. The Bar side can then be used as a separate shop if required.
Painted models (for scale purposes) and "blister packaging" window panes are not included in this kit.
Approximate dimensions: Height to top of chimney pots   215mm
Width left to right 203mm
Depth back to front 173mm  .
Please note: this model has an "L" shaped footprint and all dimensions are at the widest point.
This model can be customised for a small fee if you want a: "Dog & Duck", "White Heart" or "The Duke of Wellington" etc. Please e mail your request for a quote.
The painted model has been enhanced with cardboard roofing tiles which are available separately on this site.