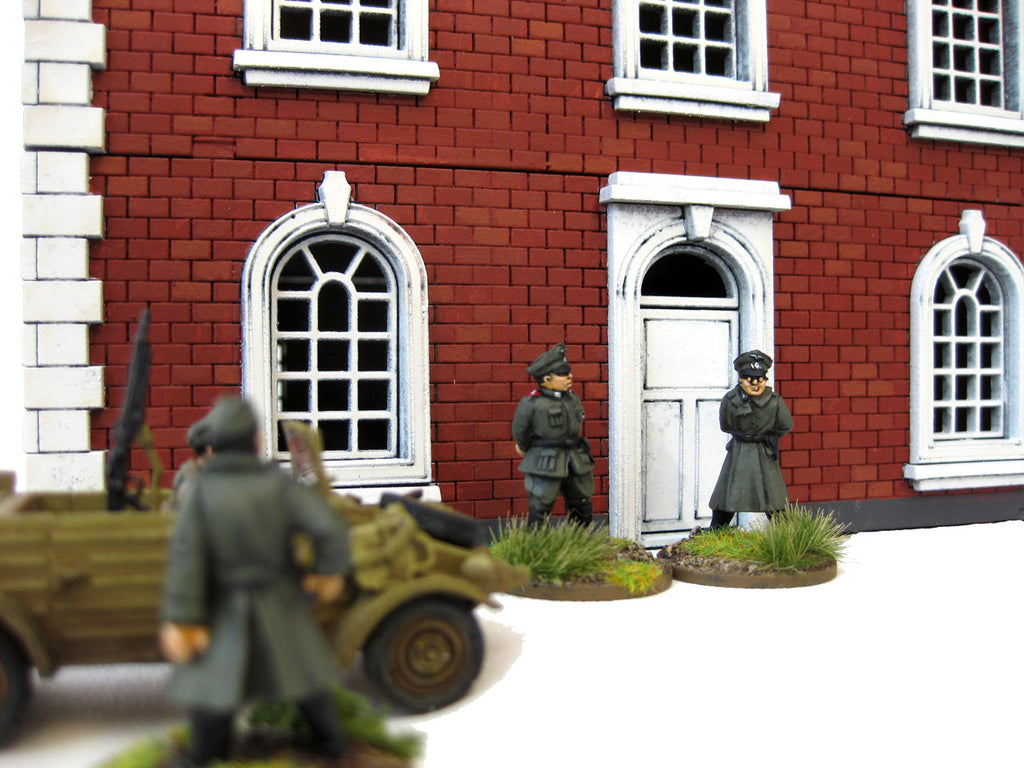 28mm 1:56 "Georgian House"
For instructions click Here
This style building is suitable for Napoleonics, through WW2 and modern day gaming.
I have taken images sent to me from Steve "Mort" Mortimer one of the jolly decent chaps who play VBCW (Thanks Mort) and pictures I took in Bayeaux with a few Google images thrown in to come up with this design.
The walls are cut in 3mm and the roof, floors and archtectural  detail are 2mm thick. I also provide an plastic angle piece for capping tiles and plastic tube to be cut for the chimmney pots.
Approx dimensions : Height to top of chimney pots 270mm
Width left to right: 210mm
Depth back to front: 210mm
This large kit contains over 200 pieces and weighs in at approximately 750g.
This kit proved very easy to paint as I glued together all parts, sprayed grey primer then white. I left all detail with the white spray then went in with terracotta coloured paint and highlighted by adding more orange. The roof was painted with tester pot emulsion in pale and charcoal grey paint. As you can see, you can access all floors to place models inside. You cannot place models in the roof space. This kit takes a long time for me to make with each brick being deeply laser engraved.
The last picture shows the Georgian House with the "Driveway & Pond" and "Gateway" also available on this site.