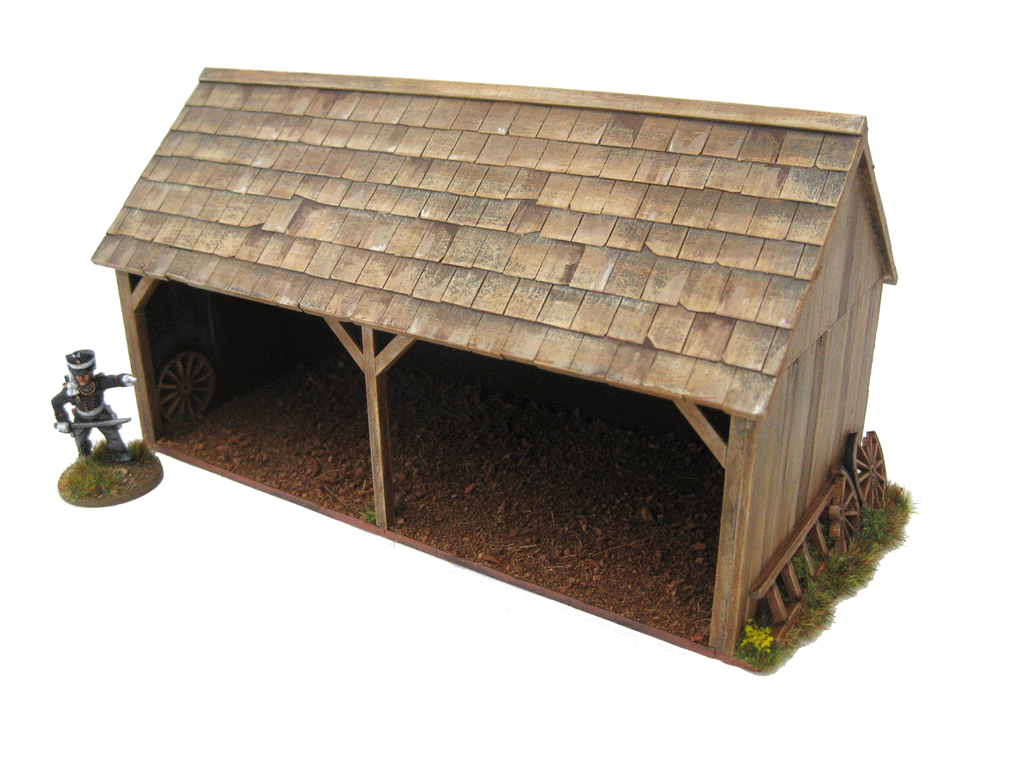 28mm 1:56 "Wagon Shed"
Click here for Instructions:
The 28mm  1:56 New World "Wagon Shed" kit comes flat packed and unpainted. Included in the kit is a strip of angled plastic to cover the roof ridge seam, a ladder and three wheels in various states of repair.
The kit comprises of the main structure with a two optional side bases. The side bases are not "tagged" so can be put on in a variety of ways or left off.
PLEASE NOTE: the painted kit has been enhanced with 3/4 of a sheet of "Roof Tiles 2". One of the unpainted pictures shows a Debris of War Large Barrel enhancing a side base. The tiles and barrels are both available on this site.
The texture for the earth floor inside the building is "Tropical Substrate" bought from a pet shop and is not included with the kit.
The model is suitable for gaming AWI to ACW periods and would equally be at home on a rural Eastern Front setting.
This kit is made from 2mm MDF with 3mm supports to the front. 
Approximate dimensions:
Height to top of roof  90mm
Width left to right 164mm (not including optional side bases)
Depth back to front  73mm
Napoleonic Russian (Front Rank)  Water Cart (Warbases) for scale purposes only.
Extra "Cart Wheels" and "Wagon Wheels" can also be found on this site for battlefield debris or scratchbuilding.