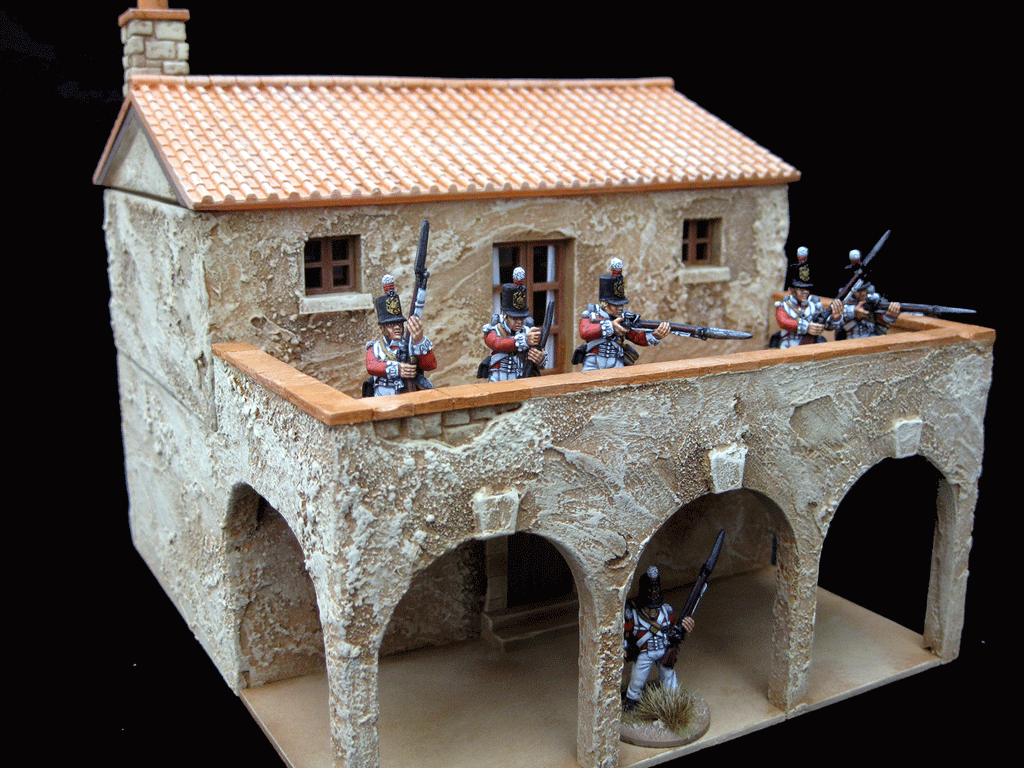 28mm 1:56 "Pantile House 2"
Click here for Instructions:   Click here for Tutorial:
The 28mm 1:56  "Pantile House 2" kit, comes flat packed, unpainted and unassembled. PVA and either contact adhesive, epoxy resin or superglue will be required to complete this kit.
Suitable for gaming in Spain, Italy or Mexico, this versatile kit can be used for WWII or Napoleonic. The model would also suit pirates of the Carribean type settings.
The "Pantile House 2" is constructed from 2mm MDF for the floors and detailing; with walls being cut in 3mm. A number of walls are layered to thicken to 6mm.
Cast resin is a major feature with this kit. The roof (solid single piece casting) chimney stack and exposed brickwork are resin components. A plastic piece is included for the chimney pot.
The downstairs three windows have optional security grilles to fix over the windows as required.
Approximate dimensions: Height to top of chimney pot 177mm
Width left to right 172mm
Depth back to front 204mm (including back steps)
This model, with solid resin parts is heavy (910g). If ordering multiple kits in the Pantile collection, please mail me for a courier quote.
For a step by step tutorial on how I prepared and painted a kit in this collection, please visit my blog on this site.
The wall texture, glue, paint and curtain (a painted piece of paper) are not included in the flat packed kit. Napoleonic Front Rank British (painted by good mate Paul Buller) are shown for scale purposes only.