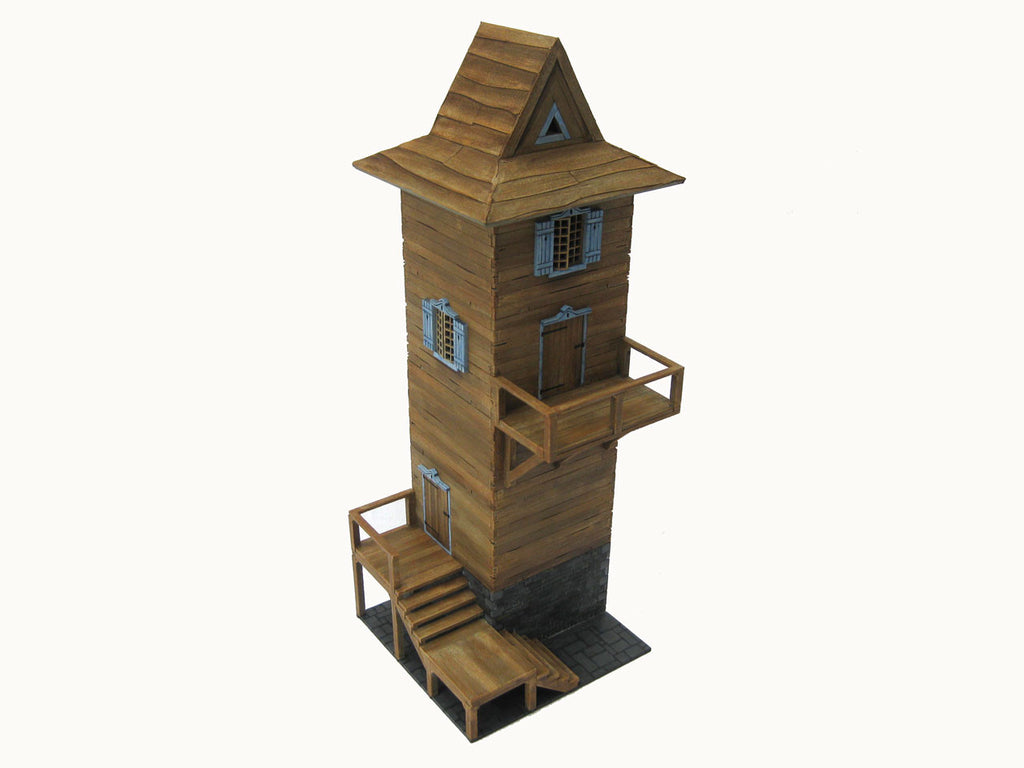 28mm 1:56 "Wizard's Tower"
For instructions, click here
The 28mm 1:56 "Wizards's Tower" stands almost a foot high!
The "Wizard's Tower" is supplied as an unassembled and unpainted MDF kit.
This five storey tower can be assembled in a variety of ways. Most walls are interchangeable and, being a perfect square, the floors and balcony can rotate to give variety to your games.
If required, one floor may be left off for a shorter tower!
The 1st floor has deeply engraved stone effect and recessed bars to the dungeon window. There are six windows with detailed frame and shutters. Shutters are supplied so all may be open or, if preferred a few may be closed.
The stairway and balcony framework are made from 3mm MDF for additional strength.
Waney edged cardboard "planks" are also included in the kit to complete the roof.
Approximate dimensions:
Square footprint: 105mm x 105mm
Height to top of roof apex: 288mm
The "Wizard's Tower" is compatible with the "Hunters Lodge" (in the Eastern Front Collection) having the same roof and room size. This will give you even more options for your layout.
Painted Mordheim miniatures by Games Workshop are for scale purposes only.
Approximate dimensions: 285mm to top of roof
Footprint: 106mm x 106mm
Room size: 70mm x 70mm